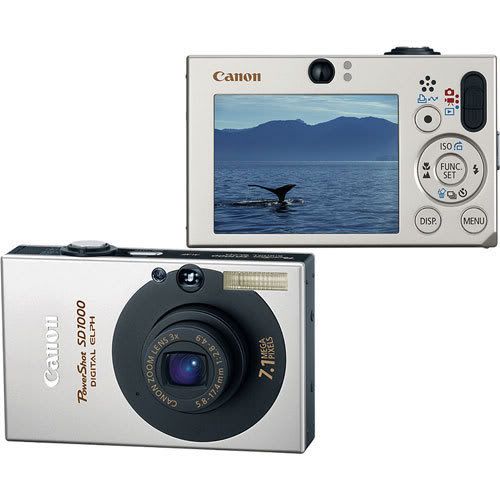 Specs can be found
here, under the "Specifications" tab.
COST
I bought this for $250 at Wolf Camera.
THE GOOD


Very compact, with very few parts that "stick out," thus reducing the chances that you might break something off, snag something, etc.


Pretty and clear LCD display


Standard Canon user interface - the UI was relatively simple to navigate even with my limited Canon digital experience.


Lots of information displayed on the screen, including shutter speed and aperture


Manual control of ISO and exposure


Macro setting produced very beautiful and clear photos; Canon seems to have a knack for macro


THE BAD


No manual control of focus.


Auto focus was terrible. It would say that a photo was in focus and, indeed, the photo looked reasonable on the LCD, but once the photo was on the computer in a higher resolution, it was very obvious that the image was in poor focus. Maddening.


COMPRESSION. There were three compression settings and all three were totally unacceptable- at full resolution there was all kinds of compression artifacting :( Looked awful.



RATING
One star out of four. The macro setting is really the only redeeming feature. I was suggested this camera because I told them that I wanted something compact with good optics and a large LCD. I didn't take into account that the AF and the compression would be horrible when I bought it; what good are nice optics when the photo is compressed and out of focus? I returned it and got a FugiFilm FinePix. I will try to review that one in the coming days (I just got it).
MISC
It should be kept into account that I may be biased because I usually shoot film (35mm and medium format) exclusively; I have *very* high expectations with regards to image quality. Also, I was purchasing this for an upcoming trip wherein I will need to have something compact and I will need to get images on to the computer easily and quickly for a subsequent presentation.
I am following the format of the previous post because, as of writing this, there weren't any guidelines posted.